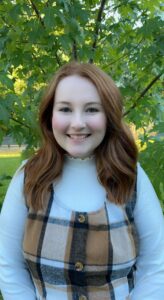 Mental Health Therapist
Fuquay Varina Office
Aetna, Cigna, BCBS (not marketplace), Self-Pay
Young Adults (15-17) | Adults (18+) | Self-Esteem | Women's Issues | LGBTQIA+ Exploration | Trauma | Anxiety | Body Image Concerns | Depression | Behavioral Challenges | Acceptance & Commitment Therapy (ACT) | Cognitive Behavioral Therapy (CBT) | Feminist Therapy | Motivational Interviewing (MI)
Contact
P: 919.636.0762
E: [email protected]
Hi there, my name is Savannah Swartout, and I am thrilled to begin this journey with you!
I value a strengths-based approach to counseling as each person has ingrained power within themselves that they can harness to achieve personal goals. I utilize an all-encompassing approach to therapy by incorporating skills from feminist therapies, CBT, and person-centered approaches to help clients recognize their own strengths and empower them to lead the lives they most desire. By being culturally competent and LGBTQIA+ affirming I strive to make sure each client knows they are unique and deserve a specialized approach to therapy because this is not a "one size fits all" journey.
I garner an intense passion to help women who have experienced trauma gain greater self-esteem, independence, and understanding of their inner power. Additionally, I have a desire to help individuals within the LGBTQIA+ community further explore themselves and how they can live an authentic life that is true to them.
I have experience working with a plethora of individuals who experience anxiety, depression, mood disorders, PTSD, eating disorders, conduct disorders, trauma related disorders, relationship difficulties, and life transitions. When providing services I implement feminist therapy, ACT, CBT, motivational interviewing, and person-centered skills and modalities based upon each client's unique needs.
I received a BA in Psychology from East Carolina University, and more recently graduated with a Master's in Clinical Mental Health Counseling from Campbell University. I am currently a Licensed Clinical Mental Health Counselor Associate in the state of North Carolina.
Lastly, my goal for each client is to assist you in finding your power, fire, drive, passion, and zest for life. I hope to help enhance your ability to reflect on yourself so you can use the tools learned in the office to implement in your everyday life. I look forward to connecting with you and being a part of your unique journey.