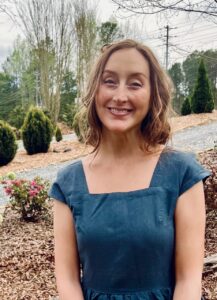 Sarah Byrd,
Mental Health Student Intern
Adults | Depression | Anxiety | PTSD | Trauma
Contact
P: 919-636-0762
E: [email protected]
Hello! I graduated from North Carolina State University in 2015 with a Bachelor of Science and from East Carolina University with a Master of Arts in 2022. After I experienced a life-changing medical health crisis, I wanted to transition to a career to help empower people through their times of crises or tough times in a meaningful and resilient way. So, I'm currently in a master's program for clinical mental health counseling. My passion is to help people not just survive but to thrive beautifully and my dream aligns with Simply Thrive's vision. I'm so excited to be an intern with Simply Thrive!
I hope to create a non-judgmental, compassionate, understanding, and supportive space where you feel free and safe to share. My hope is we become a team where you feel authenticity, connection, and empowerment each time we share that counseling space.
My interests include but are not exclusive to working with grief, loss, depression, anxiety, mindfulness, women's issues, body image issues, trauma/PTSD, relationship issues, social skills deficits, and ADHD.
I am influenced by several theories, but I mainly draw from Person-Centered, Third-Wave Cognitive Behavioral Therapy (CBT), Feminist, and Acceptance and Commitment Therapy (ACT). This means I don't see you as an object who needs to be "fixed." This means you are the one in control of all your therapy choices and how you want to choose to grow stronger as a person. It also means we will explore ways to not just reduce negative emotions, thoughts, and behaviors, but we will focus on building healthy, empowerment skills in a meaningful way. As well, it means we look at your story within the big picture of social power differentials, social barriers, and hierarchies.
In my free time, I am the same out of counseling as in. I am an advocate for people with all types of disabilities and people who are marginalized. I love to build meaningful relationships and authentically connect with others through music and nature. Music, plants, and nature help me feel connected, restored, and grounded.